New Lattes On Dunkin's Menu - Includes Blueberry Crisp
Coffee drinkers tend to have their favorite brews, but it's always fun to sip on something new and right now, Dunkin' has three new Signature Lattes for us to try. The coffee and donut chain has added the Cocoa Mocha, the Caramel Craze, and the one I'm most intrigued by, the Blueberry Crisp Latte.
Blueberry isn't a flavor we typically get with our cup of Joe, but it's not exactly new to Dunkin'. They've offered a blueberry flavor shot for years, and I've gotten it a time or two. But I'm interested to see if this will be any different. According to Dunkin' this Blueberry Crisp Latte has the flavor of the fruit, of course, plus caramel flavors and it's topped with a caramel drizzle and cinnamon sugar. Caramel lovers will be drawn to the Caramel Craze Latte, which is made with caramel flavoring, caramel drizzle, and finished with cinnamon sugar topping and whipped cream. And the Cocoa Mocha is full of chocolatey goodness, topped with whipped cream, a mocha drizzle and hot chocolate powder. Is your mouth watering yet? All three new drinks are available hot or iced at Dunkin' now.
Read more --> Delish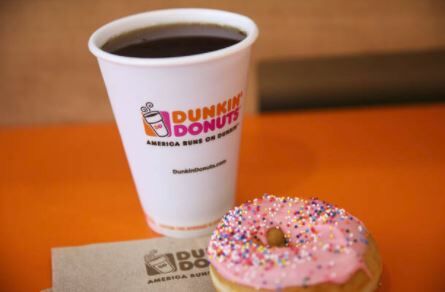 Photo Credit: Getty Images