What's the Healthiest Sushi To Order?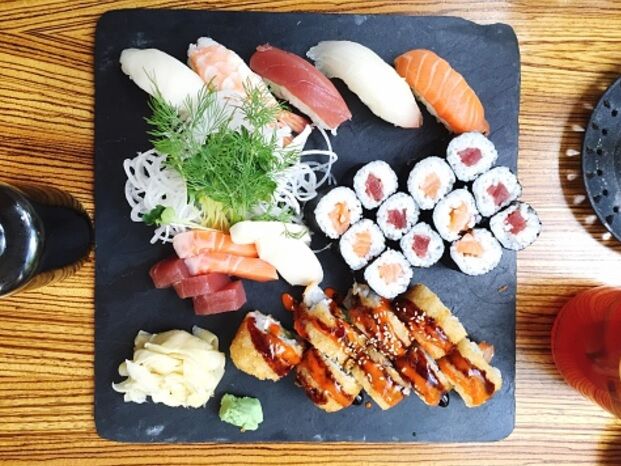 Photo Credit: Getty Images
As far as restaurant choices go, Japanese food is a fairly healthy choice. Compared to pizza and burgers, sushi is a healthier option. But what you order makes a big difference in how nutritious and healthy your meal is, so here's what to order and what to avoid when you eat at a Japanese restaurant.
Edamame - This popular appetizer is the healthiest thing on the menu! Edamame has the ideal balance of fiber, protein, and healthy fats, so order it to start your meal.
Salmon Sashimi

- This is all protein and no rice, which is better because it has fewer simple carbs. Plus the salmon has healthy omega-3 fats, B12, selenium and more. Anytime you can swap the white sushi rice for brown rice or skip it altogether, you're making your meal healthier.
Vegetable Roll - These don't have fish, so they're not high in protein, but with a side of edamame, you'll balance it out.
Miso Soup

- It's packed with gut-healthy probiotics, but it can be really high in sodium.
California Roll - These aren't completely unhealthy, but they're usually made with imitation crab which can include fillers, coloring, and additives. If you can, get one with real crab and you'll strike that balance of protein, healthy fat, and fiber.
Spicy Tuna Roll

- Tuna has lots of vitamins and minerals, but the spicy part of this roll comes from spicy mayo, which adds lots of calories and not much nutrition.
Shrimp Tempura Roll - As yummy as this roll is, it's the least healthy thing on the menu. Something fried in oil probably has trans fat because of the chemical changes that happen in the oil in the high heat. So try to stay away from anything with "tempura" or "spicy" in the name and go easy on sauces to make your meal as healthy as possible.
Read more --> My Domaine

Julie
Want to know more about Julie's Blog? Get their official bio, social pages & articles!
Read more