Amazon's Whole Foods Price Cuts are Here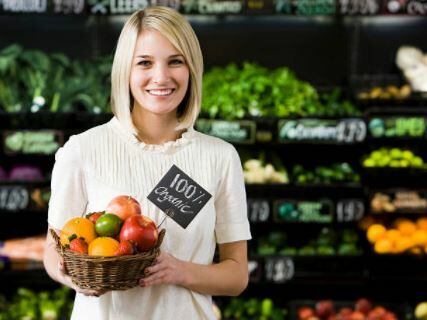 Photo Credit: Getty Images
Now that Amazon owns Whole Foods (the deal was completed yesterday), customers will be seeing some lower prices at the store, so you may have to stop calling "Whole Paycheck." Well, some of those discounts are already in affect and here's just a few places you'll be saving.
Newly discounted items are designated with an orange "Whole Foods + Amazon" sign, and in one Manhattan store, the price dropped for organic Fuji apples from $3.49 a pound to just $1.99 a pound, while bananas were discounted from 79 cents a pound to 49 cents, and organic avocados went from $2.79 each to $1.99. And it's not just produce, with organic rotisserie chicken now selling for $9.99 instead of the usual $13.00, with items like large brown egs, ground beef and "organic "responsibly-farmed" salmon and tilapia also expected to be discounted.
And price cuts aren't the only way Amazon is improving the Whole Foods experience. In case you missed it, Amazon is planning to roll out some major Whole Food benefits to their Amazon Prime members. Although details are limited, the company is expected to launch a rewards program at Whole foods for Prime members, which will come with special savings and in-store benefits not available to other customers. In addition, Whole Foods label products can now be ordered through Prime Now, which means folks in select cities can get free two-hour delivery, or one hour delivery for just $7.99. Also Amazon Lockers will be added to certain stores so customers can pick up and return their Amazon items.
Read more --> Mashable

Julie
Want to know more about Julie's Blog? Get their official bio, social pages & articles!
Read more