Bride Gets Surprise Wedding One Day After Proposal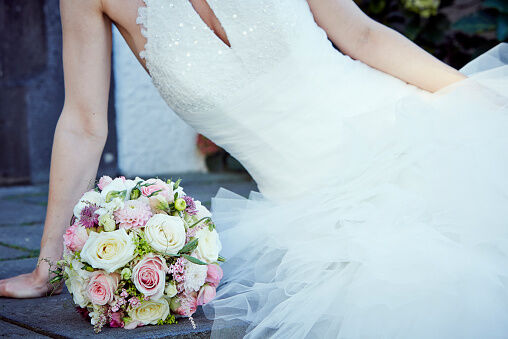 Photo Credit: Getty Images
A British woman was happy to be going on a family trip, but it became even more amazing when her boyfriend proposed. And then he revealed he actually had the whole wedding planned as well and it happened just 24 hours later.
Michelle and Scott Williams had been together for two years when he surprised her by popping the question on the Greek island of Santorini. Her brother, sister, father, and kids from a previous relationship were all on the vacation with the couple. But as the future bride said "yes" to her proposal, she heard a crowd of 50 more loved ones cheering for them – as her fiancé brought them along to watch.
And that's when he said, "By the way, the wedding is tomorrow!" But not to worry – her man had already taken care of every detail. He had bridesmaids there with light pink dresses that were perfectly altered, the venue, the flowers, and the hair and makeup people were all ready to go. He even bought a wedding dress he knew she liked and another shorter dress for her to wear at the reception.
The best part? The bride never suspected anything and the groom pulled the whole wedding together perfectly after planning it for nine months. "He's quite a man's man, so he's not usually this romantic. He can be at times, but this was really something special," the bride says. "I still can't believe he pulled it all off." Oh girl – he's a total keeper!
Read more --> NY Post

Julie
Want to know more about Julie's Blog? Get their official bio, social pages & articles!
Read more