The Healthiest Pumpkin-Flavored Fast Foods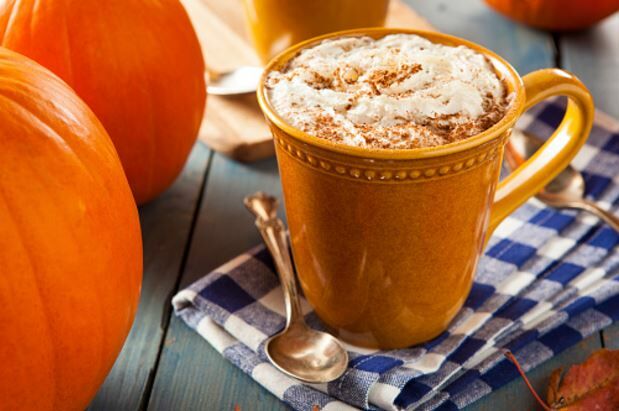 Photo Credit: Getty Images
It's officially fall now, so pumpkin flavored treats are everywhere. The problem is, most of them are covered in sugar, whipped-cream, or chocolate. So if you're looking for the healthiest options at your favorite fast food spots, here are registered dietitian-nutritionist Maggie Michalczyk's top picks:
Starbucks - The ever popular Pumpkin Spice Latte is loaded with 50 grams of sugar, which is a huge sugar bomb to start your day with. But you can get the flavor you want with this nutritionist-approved twist: She suggests ordering a tall PSL with one pump pumpkin sauce, nonfat milk, and no whip. And she advises steering clear of the scones in the bakery case - they have 44 grams of sugar and 500 calories, but you can treat yourself to a cheesecake bar, which has almost 200 fewer calories and about half the sugar.
Dunkin' Donuts - It's hard to have willpower when there are pumpkin lattes, donuts, muffins, and cream cheese here, but Michalczyk says the healthiest way to go at Dunkin' is by just getting a few Munchkins. These donut holes are only 60 calories each, so you'll get a taste without overdoing it.
Auntie Anne's - When you indulge in the pumpkin pretzel nuggets here, this nutritionist suggests splitting the order with a buddy and skipping the sweet glaze altogether since it has 38 extra grams of sugar.
Au Bon Pain - Instead of being tempted with the pumpkin pie bon tart, which is "just a glorified Pop-Tart" according to the expert, she recommends the bonte cristo sandwich. It has turkey breast, ham, swiss, and maple pumpkin butter, so you get the flavor fix but the protein will keep you full without all the sugar.
Culvers - They're famous for their frozen custard and Michalczyk says the thing to order is a small pumpkin gingerbread concrete mixer. The creamy custard and cookie pieces are delicious and the smaller size lets you enjoy without the guilt.
Read more --> Delish

Julie
Want to know more about Julie's Blog? Get their official bio, social pages & articles!
Read more