5 Helpful Parenting iPhone Hacks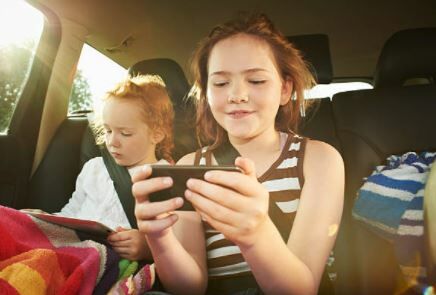 Our phones aren't usually far away, and that's just the reality these days. I'm not here to shame anybody for excessive phone use.
We use the camera to take pictures and videos of our kids doing cute/funny/weird things. We schedule doctors' appointments in our calendar app. We dedicate some of precious storage space to their dumb apps.
But are you maximizing what your phone can do for you, as a parent? From bus alarms and reminders to restaurant meal deals, here are five unexpected iPhone hacks, from Parenting blogger Heather Laura, you might want to try:
1. Tooth Fairy tip
I'm always hearing about parents who wake up at 5 a.m. in a panic and sneak into their child's room to retrieve a lost tooth and do the cash drop — or, worse, those who forgot entirely and had to deal with a tearful kid who thinks the Tooth Fairy just didn't want to bother.
We're fairly new to the whole "losing teeth" thing, but when my son loses his I immediately activate Siri to tell her an important message. "Siri," I say excitedly into my iPhone. "Please remind me to stay out of the Tooth Fairy's way around 9 p.m. tonight!" Then I tell the kids how I want to make sure I don't disturb her while she's working, in case it frightens her away. This alarm saves me, majorly, by reminding me to make the swap before I got to bed.
2. School lunches
There's nothing more frustrating than rushing to make a lunch and then remembering — ugh — you didn't need to make it! Now that we have two kids ordering school lunches, it's not as easy to keep it all straight. Plus, the schedule is always changing, so I can't rely on thinking "Every Tuesday is garlic pizza day." It isn't.
I usually fill out the lunch tickets and write the cheque once a month, and then I started taking an extra minute to pop those dates into my Google calendar.
At 6:55 a.m. on the days one (or both) of the kids is ordering, my phone sweetly reminds me not to pack them a lunch. The reminder chimes just before I'm heading down to the kitchen, so it stops me before I've started prepping anything.
3. Recurring reminders
When we start a new session of dance or Taekwondo or swimming, I add it to the Google calendar and set it to repeat each week for the length of the term. That's pretty basic, but it makes it easy to edit a single instance if there's something specific to remember — like wearing a costume to ballet the week of Halloween.
I also put carpool details in the calendar so I always know who's driving -- which is helpful when you're looking a few weeks ahead. By setting the "Our turn to drive" reminder to repeat every two weeks, I don't even have to think about it.
I also live by my recurring alarms, which can be set to go off daily or just on certain days. We have one telling us to leave the house for the bus in the morning, and phone plays a specific (frantic) tune each afternoon when it's time to pick the kids up at the bus.
Even our dog recognizes the melody and starts whining like I'm going to forget her brother and sister. (If it wasn't for that alarm, I likely would.)
4. Freebies
I have a separate Google calendar that lists all of the dates local restaurants have a "kids eat free" promo. It only took a minute to set up — "Kids eat free at the Big Stop" repeats every Tuesday, for example — and it's handy to have.
The reason it's on a separate calendar is so that we're not tempted to eat out too often, just because the kids will dine for free! I keep it hidden, and click over to open it if we're thinking of going to dinner anyway.
5. Unknown parents
A lot of birthday party invitations are coming home where the RSVP is the parent's cell number. I text our response and then save the number in my contacts as "Brayden's Mom" or "Ashlynn's Parent" until I figure out who these people are.
When I meet the parent(s) during the party drop-off, I learn their name(s) and can add that to my contact file. If we end up discussing a playdate, I store their address, too.
This has come in handy, because sometimes a parent will text me months down the road asking if my child can come for a playdate — and I'm not like "Who dis?"
Read more --> The Chronicle Harold

Julie
Want to know more about Julie's Blog? Get their official bio, social pages & articles!
Read more