How to Get Through The Holidays Without Drinking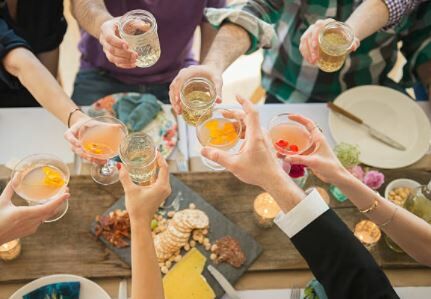 Photo Credit: Getty Images
There are plenty of reasons not to drink alcohol, from just trying to be healthier to being pregnant. But even if you feel great about your choice to banish the booze from your life, the holidays can be tricky. Between stressful family gatherings to office parties that are much more enjoyable when tipsy, it can feel like there's a reason to drink around every corner. So if you're trying to figure out how to not drink at events that revolve around alcohol, here are some helpful tips to get people off your back and still have a good time sober.
Ask for what you want - When someone offers you a glass of wine or a cocktail, say, "No thanks, but I'd love an (insert your beverage of choice here)." People just want to get you a drink to make you feel welcome, they don't actually care if it's alcoholic or not.
Don't apologize or feel like you need to make excuses - You can use the simple, "I'm not drinking tonight" and just leave it at that, or go into as much detail you want about the reason why. It's no one's business anyway, so don't feel like you owe anyone an explanation.
Find a non-alcoholic beverage you like - Having something to hold onto and sip that you really enjoy helps you avoid temptation and that awkward feeling you can get when you're off the booze.
Revel in your productive mornings - Cherish that feeling when you wake up feeling refreshed, rested, and looking forward to a pleasant busy day, instead of being in desperate need of greasy hangover food or an enormous Gatorade to deal with your headache.
Read more--> Bustle

Julie
Want to know more about Julie's Blog? Get their official bio, social pages & articles!
Read more