On Dec. 7th, and everyday, this Military mom makes a big difference
December 7 is a day of infamy.
More precisely, as President Roosevelt proclaimed after the Japanese attacked Pearl Harbor, "December 7, 1941, a day that will live in infamy". After this historic date, my dad and many of his buddies marched off to World War II. Watch FDR's speech to Congress below.
I love our men and women in uniform who volunteer to join our military to support our freedom. Here's a woman who not only does the same, but brought two of those soldiers to the world, and now keeps supporting their fellow troops.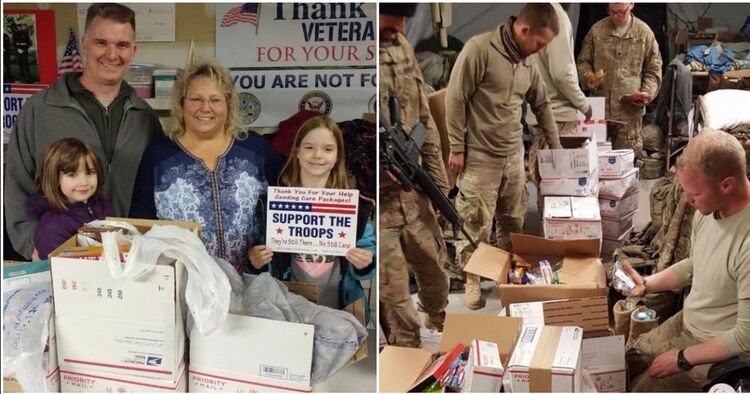 When Wisconsin mom LeAnn Boudwine's two sons Michael and David were serving in the military, they told her something that changed her life forever.
They told their mom how thankful they were for her care packages, because some of their friends never received packages, or even mail from home. That really resonated with Boudwine, because she didn't want anyone in our military to feel like they were forgotten. She started organizing her friends to prepare care packages for military members.
Boudwine started a charity called Support the Troops out of her basement, with the help of a small team of volunteers and her family members. Her organization's slogan was "they're still there, we still care," and her goal was to remind America's military that we're thinking of them here at home.
The packages include things like candy, DVDs, grooming supplies, warm clothes, holiday items, local newspapers, card games, and supportive letters from school kids. "All of those little things that we take for granted in our daily lives," as Boudwine puts it.
Now, 10 years after her project began, Support the Troops has moved out of Boudwine's basement, and the military mom's project has just reached a major milestone.
Read the full story on Shared.com
Photo: Shared.com

The Mayor Pete Kennedy
Want to know more about The Mayor Pete Kennedy? Get their official bio, social pages & articles on Mix 100.5!
Read more