Meet the All*Stars in Sunday's Puppy Bowl XIV.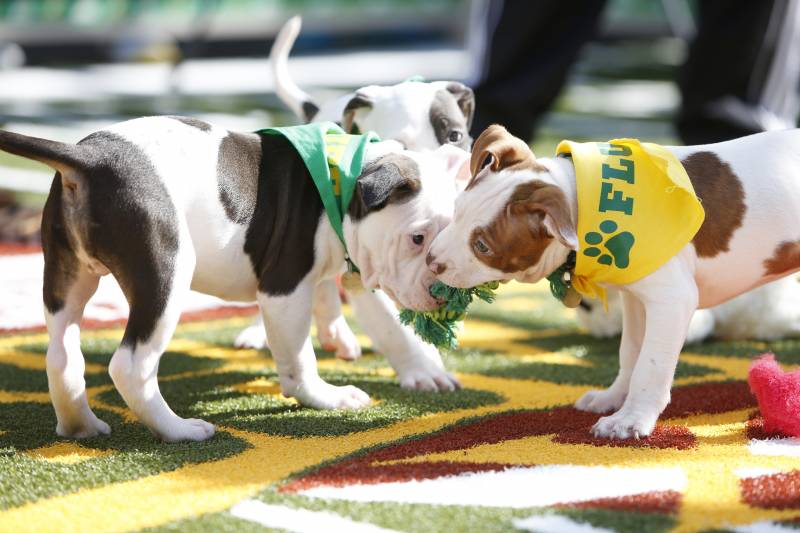 (photo credit: Alison Yin/Associated Press)
It started as an adoption idea fourteen-years ago. It's become a go-to place for dog lovers on the day of "The Big Game".
Sunday at 3 p.m. Animal Planet presents Puppy Bowl XIV. It's a great way for the family to ease into a Sunday Funday of action on the field.
Before you meet the All*Star pups below who will be on your flat screen Sunday, check out these names and breeds:
Puppy Bowl XIV Starting Lineup
Team Fluff
Alvin—German Shorthaired Pointer/Rottweiler
Ana—Australian Cattle Dog/Catahoula Leopard Dog
Bear—American Staffordshire Terrier/Foxhound
Biscuit—Chihuahua/Miniature Pinscher
Blueberry Pie—Miniature Poodle/Chihuahua
Buckalew—Chihuahua/Dachshund
Buttons—Cocker Spaniel
Chance—Dalmatian
Checkers—American Staffordshire Terrier/Chihuahua
Joy—Miniature Poodle
Kaleb Junior—Chihuahua/Chow Chow
Lila—Chihuahua/English Toy Spaniel
Luna—Pomeranian/Miniature Pinscher
Mango—American Staffordshire Terrier/Chihuahua
Olympia—Great Pyrenees
Sally—Treeing Walker Coonhound
Sophie—Poodle/Golden Retriever
Stripe—Labrador Retriever/German Shepherd
Sunny—American Staffordshire Terrier/Rottweiler
Tyler—Chihuahua/Shih Tzu
Vaughn—Border Collie/Shiba Inu
Team Ruff
Barry—Treeing Walker Coonhound/Great Pyrenees
Boomer—Chihuahua/Pomeranian
Carlo—Pug
Clyde—Corgi
Edwin—German Shepherd/Rottweiler
Hannah—American Staffordshire Terrier/Bulldog
J-Paw—Miniature Poodle/Chihuahua
Joker—Shih Tzu/Yorkshire Terrier
Juniper—American Staffordshire Terrier/American Bulldog
Kelly Barkson—American Staffordshire Terrier/Labrador Retriever
Kitsy—Shiba Inu
Miss Brie—Russell Terrier/American Eskimo Dog
Moonshine—Border Collie
Morris—Pomeranian
Mr. Wigglesworth—Shar-Pei
Peanut—Australian Shepherd/Pointer
Petree—Pomeranian/Pekingese
Savannah—Bull Terrier/American Staffordshire Terrier

The Mayor Pete Kennedy
Want to know more about The Mayor Pete Kennedy? Get their official bio, social pages & articles on Mix 100.5!
Read more